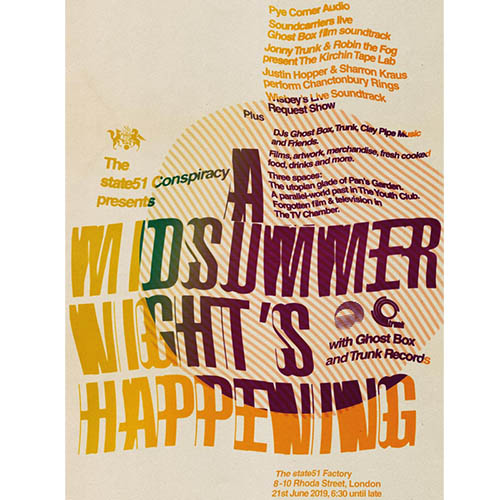 Midsummer Happening Poster & Invitation
| Format | Price | Buy |
| --- | --- | --- |
| A Midsummer Night's Happening Poster & Invitation | £10.00 | |
Sorry, Midsummer Happening Poster & Invitation is out of stock.
Description
Midsummer Happening Poster & Invitation
The state51 Conspiracy presents
​​​​A Midsummer Night's Happening
with Ghost Box and Trunk Records

A solstice celebration hosted by state51, Ghost Box and Trunk Records. Both record labels have invited a variety of artists and friends to perform at this very special party. There'll be live music, artwork, film and merchandise spread across three specially designed and themed interiors: Pan's Garden, The Youth Club and The TV Chamber.

The Midsummer Night's Happening is a private party open to a limited number of invited guests and friends. To receive an exclusive invitation for one, pre-order the limited edition print of Julian House's event poster from here or the Trunk Records shop.

The evening will start in with a live performance of Justin Hopper and Sharron Kraus's beautiful and haunting Chanctonbury Rings, accompanied by visuals by photographer Wendy Pye. The evening also marks the release of the album.

Then Wisbey will take the stage, he of Dirty Fanmail fame and, who could forget, The Ladies Bras. He'll be asking the audience to request their favourite soundtracks which he'll perform on the home organ in his own inimitable style.

Another Trunk Records performance follows next, The Kirchin Tape Lab with Jonny Trunk and his OST co-host (and member of radiophonics outfit Howlround), Robin "The Fog" Warren. They'll be playing out live tape reels from the as yet, unheard archives of Basil Kirchin.

Next is a very rare chance to see the Soundcarriers. They'll be in instrumental mode to perform a live soundtrack to a film by Ghost Box co-manager and graphic designer Julian House.

Pye Corner Audio will headline the evening with a live set of Martin Jenkin's unique haunted dance music and submerged sci-fi epics.

There'll also be…

An exhibition of Frances Castle's Clay Pipe Music artwork,
DJ sets from Ghost Box, Trunk & Clay Pipe Music throughout the evening and later,
Join The Mangle to screenprint your own Julian House designed Midsummer Night's Happening T Shirt.
A state51 shop with merchandise and records from all those taking part.

All this and fresh cooked food!

It's All Happening at The state51 Factory, 8-10 Rhoda St., London, 21st June 2019, 6:30 until late.

Prints and invitations will be sent before the event. One invitation admits One person, please bring it with you on the night.