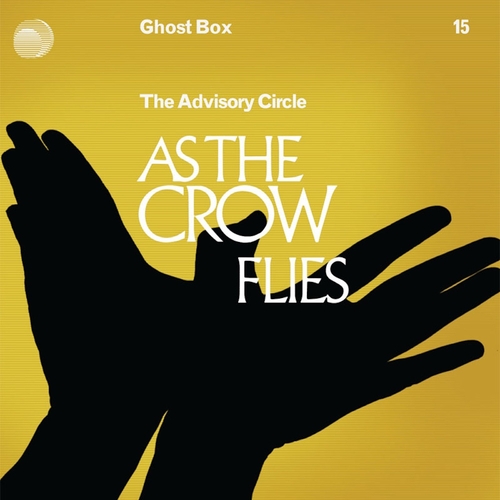 As The Crow Flies
Available Formats
Tracks
Price
Buy
12" Vinyl Album
17 tracks

£

12.95

Out of stock

CD Album
19 tracks

£

10.95

Out of stock

Download Album (

MP3

)
19 tracks

£

7.99

Download Album (

FLAC

)
19 tracks

£

7.99

Download individual tracks
From £0.99
Description
The Advisory Circle - As The Crow Flies
This third album from The Advisory Circle is an exploration of the passage of time and the traditional wheel of the year. Achingly beautiful and melancholy melodic analogue electronics, the trademark Advisory Circle sound palette is broadened to include some traditional acoustic instrumentation. One of Julian House's strongest Ghost Box covers so far with beautiful sleeve notes courtesy of Professor Ronald Hutton, Head of History at Bristol University and author of the monumental work on the traditional British calendar, Stations of the Sun.
Reviews
On this exceptional album's inner sleeve, a sixties bypass bisects a prehistoric earthwork, and the folklorist Ronald Hutton discusses seasonal rites. Within, a set of tuneful, tonal, slices of clean and cold electronica hums with post-war optimism, warped by echoes of the transcendentally bland music that underscored Seventies architects' pitches for concrete car parks. The comforting irony cloud, that shadowed earlier Ghost Box label experiments in emotionally manipulative nostalgia, has evaporated. Without anything so prescriptive as lyrics, The Advisory Circle offers a disarmingly sincere, pellucidly beautiful, and hauntingly disorientating exploration of your civilisation's problematic relationship with the landscapes of its past.
Stewart Lee, Sunday Times
Inspired by the sounds of 70s 'polytechnic' TV - Open University, Public Information Films, Play For Today - Jon Brooks'Advisory Circle tap into a collective nostalgia for a post-war paternalistic Britain. His 2008 album, Other Channels, was an eddying, whisper of ghostly broadcasts, the family telly as portal to otherworlds. Blending chiming folk acoustics with wistful analogue electronics, As The Crow Flies feels like a more personal work, both a soundtrack to dreamlike childhood summers and an imagined government guide to the cycles of the seasons, complete with linernotes by historian and folklorist Ronald Hutton. With the current government's attempts to strip the country of its libraries, forests and broadcasting corporation, anything that reconnects us with richer ideas of nature and culture should be cherished. As such, imagining a departmental handbook on the primal power of the pagan year feels positively revolutionary.
Andrew Male, Mojo
All told, this is arguably The Advisory Circle's most fully-realised set to date (accompanied by a typically eye-catching sleeve by Ghost Box's in-house designer, Julian House), exhibiting a stronger sense of (dis)place(ment) than before and, as such, constitutes the perfect entry point for anyone looking for a way into Brooks' enchanting, wistful realm.
Spencer Grady, BBC Music Website.
Tracklisting
12" Vinyl Album (GBX015LP)
The Advisory Circle

- Logotone I – Decisions

The Advisory Circle

- Now Ends The Beginning

The Advisory Circle

- Here! In The Wychwoods

The Advisory Circle

- The Patchwork Explains

The Advisory Circle

- Everyday Hazards

The Advisory Circle

- Ceridwen

The Advisory Circle

- As The Crow Flies

The Advisory Circle

- Innocence Elsewhere

The Advisory Circle

- Logotone II - The New Traffic Signs

The Advisory Circle

- Modern Through Movement

The Advisory Circle

- Learning Owl Reappears

The Advisory Circle

- Further Starry Wisdom

The Advisory Circle

- We Cleanse This Space

The Advisory Circle

- Beyond The Wychelm

The Advisory Circle

- Logotone III - Eyes Inside You

The Advisory Circle

- Route Along 18 Corners

The Advisory Circle

- Wheel Of The Year
CD Album (GBX015CD)
The Advisory Circle

- Logotone I – Decisions

The Advisory Circle

- Now Ends The Beginning

The Advisory Circle

- Here! In The Wychwoods

The Advisory Circle

- The Patchwork Explains

The Advisory Circle

- Everyday Hazards

The Advisory Circle

- Ceridwen

The Advisory Circle

- As The Crow Flies

The Advisory Circle

- Innocence Elsewhere

The Advisory Circle

- Logotone II - The New Traffic Signs

The Advisory Circle

- Modern Through Movement

The Advisory Circle

- Learning Owl Reappears

The Advisory Circle

- Further Starry Wisdom

The Advisory Circle

- We Cleanse This Space

The Advisory Circle

- Beyond The Wychelm

The Advisory Circle

- Logotone III - Eyes Inside You

The Advisory Circle

- Route Along 18 Corners

The Advisory Circle

- Wheel Of The Year

The Advisory Circle

- Unforgotten Path

The Advisory Circle

- Lonely Signalman
Download Album (GBX015)
The Advisory Circle

- Wheel Of The Year