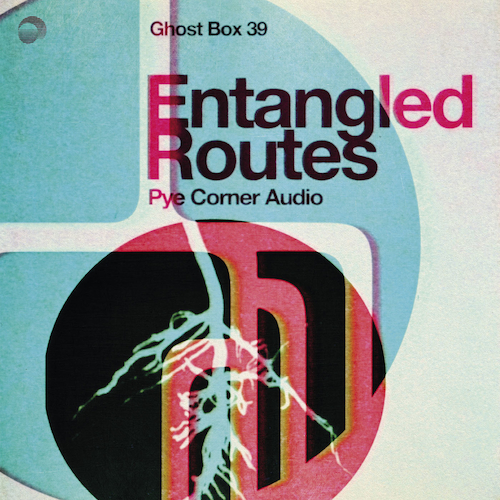 Entangled Routes
Available Formats
Tracks
Price
Buy
12" Vinyl Album
12 tracks

£

14.95

Available

15 December 2021

CD Album
13 tracks

£

11.95

Download Album (

FLAC

)
13 tracks

£

7.99

Download Album (

MP3

)
13 tracks

£

7.99

Download individual tracks
From £0.99
More information about preorder releases
Description
Pye Corner Audio - Entangled Routes
VINYL DELAYS: We are hoping to be able to ship vinyl LP pre-orders from around 15th December.  We can't guarantee this unfortunately so please keep an eye on our website and socials for updates.
Entangled Routes by Pye Corner Audio, is the third part of a loose trilogy of albums starting with Stasis in 2016 and followed by Hollow Earth in 2019. Each album is a kind of high concept sci-fi epic, the latest instalment of which plays with the idea of mycorrhizal networks and human attempts to listen in and communicate.
Martin Jenkins builds a compelling soundworld from minimalistic synth sequences and dance floor abstractions. His masterful sound design creates a sense of awe and vast space, as he takes us on a fantastic and exciting voyage from peril to redemption.
With artwork as always by Julian House, the LP comes on heavyweight vinyl with full colour inner sleeve and free download code card.
Reviews
It's hard not to draw a Brian Eno comparison, as this is an album that manages to distill big, overarching concepts into accessible, and (above all) enjoyable soundscapes.
QUIETUS
Tracklisting
12" Vinyl Album (GBX039 LP)
Pye Corner Audio

- New Roots

Pye Corner Audio

- Synaptic

Pye Corner Audio

- Paleolith

Pye Corner Audio

- Earthwork

Pye Corner Audio

- The Creeper

Pye Corner Audio

- Hive Mind

Pye Corner Audio

- Growth Potential

Pye Corner Audio

- The Long Now

Pye Corner Audio

- Phantom Orchid

Pye Corner Audio

- Leaf Mould

Pye Corner Audio

- Buried Network

Pye Corner Audio

- Symbiosis
CD Album (GBX039 CD)
Pye Corner Audio

- New Roots

Pye Corner Audio

- Synaptic

Pye Corner Audio

- Paleolith

Pye Corner Audio

- Earthwork

Pye Corner Audio

- The Creeper

Pye Corner Audio

- Hive Mind

Pye Corner Audio

- The Clearing

Pye Corner Audio

- Growth Potential

Pye Corner Audio

- The Long Now

Pye Corner Audio

- Phantom Orchid

Pye Corner Audio

- Leaf Mould

Pye Corner Audio

- Buried Network

Pye Corner Audio

- Symbiosis
Download Album (GBX039 DL)
Pye Corner Audio

- New Roots

Pye Corner Audio

- Synaptic

Pye Corner Audio

- Paleolith

Pye Corner Audio

- Earthwork

Pye Corner Audio

- The Creeper

Pye Corner Audio

- Hive Mind

Pye Corner Audio

- The Clearing

Pye Corner Audio

- Growth Potential

Pye Corner Audio

- The Long Now

Pye Corner Audio

- Phantom Orchid

Pye Corner Audio

- Leaf Mould

Pye Corner Audio

- Buried Network

Pye Corner Audio

- Symbiosis