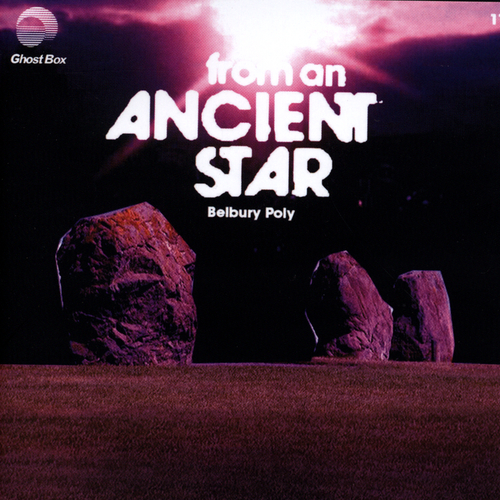 From an Ancient Star
Available Formats
Tracks
Price
Buy
Download Album (

MP3

)
13 tracks

£

7.99

Download Album (

FLAC

)
13 tracks

£

7.99
Description
Belbury Poly - From an Ancient Star
In this, their third album, Belbury Poly delve into a world of supernatural wonder, flaky pseudo-science and strange hobbies. Once again the album is complemented by lavish booklet by in house designer Julian House.
Reviews
...electronica rarely comes as intriguing and atmospheric and laden with weirdly unshakable tunes.
*****
Alexis Petridis - The Guardian
Belbury Poly's Jim Jupp fashions analogue electronica under the spell of half-remembered, spooky 1970s children's television shows. From an Ancient Star echoes the crypto-archeological concerns of the classic 1976 HTV serial Children of the Stones, and, as with all the Ghost Box label's releases, Julian House's stunning sleeve designs are inseparable from the music itself. Irradiated megaliths, warped algebra and quotes from HP Lovecraft, TS Eliot and a Miniature Railway Scenery manual combine to suggest that humankind is a pawn in some alien experiment, creating a mood that alters our perception of Jupp's music. Banal melodies become compellingly sinister. Sampled recitations in received pronunciation are spliced to fit the rhythms of a cold, clean synthesizer. At times, as on the inanely jaunty, reggae-flavoured A Great Day Out, Jupp almost seems to be composing in character, conjuring the spirit of some frustrated BBC Radiophonic Workshop boffin obliged to appease a popular culture he does not care for. From an Ancient Star's blurred appropriation of the past will leave middle-aged listeners feeling delightfully disorientated and a little distressed, but will it mean anything to teens and twentysomethings? Who cares? Let them watch Skins.
****
Stewart Lee
Sunday Times
Tracklisting
Download Album (GBX011)
Belbury Poly

- The Hidden Door