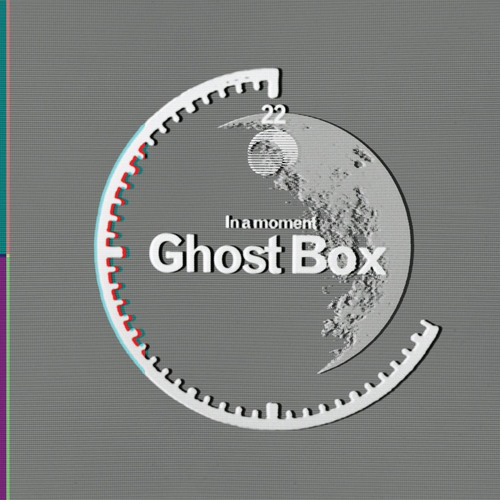 In a Moment… Ghost Box
Available Formats
Tracks
Price
Buy
CD Double Album
30 tracks

£

14.95

Out of stock

12" Vinyl Double Album
27 tracks

£

21.95

Out of stock

Download Double Album (

FLAC

)
31 tracks

£

11.99

Download Double Album (

MP3

)
31 tracks

£

11.99

Download individual tracks
From £0.99
Description
Various Artists - In a Moment… Ghost Box
To mark the label's tenth anniversary Ghost Box have compiled a double album of highlights from their back catalogue. Thirty one especially remastered tracks from The Advisory Circle, Belbury Poly, The Focus Group, Pye Corner Audio, John Foxx and The Belbury Circle, Roj, Mount Vernon Arts Lab and a track from the forthcoming album by Hintermass.

The album includes extensive sleeve notes by music writer, Simon Reynolds, who has championed the cause of Ghost Box from the very beginning.

Available on double digipack CD with booklet insert or on heavyweight vinyl double gatefold LP with free download code. Both physical formats are lavish packages designed by Julian House, and celebrate the fact that graphic design has always played a central part of the label's ethos.
Reviews
"...a supremely listenable collection full of ravishing musicality."
UNCUT
"...what's most impressive about this collection is the aesthetic consistency and sheer quality of the material, recalling the heydays of labels such as Factory, 4AD and Warp... If you haven't ventured inside the world of Ghost Box before, this is an excellent entry point."
Quietus
"...clear that the label is alive and in good shape as it heads into its tenth year."
Wire
"...simultaneously warm and comforting, yet unsettlingly off-kilter, is testament to the majesty with which the GB team straddle their multiple parallel worlds."
Record Collector
"These woozy, atmospheric curios, almost supernatural in feel, are like the soundtrack to a fragmented, surreal dream from your childhood... more than enough interesting hauntological weirdness and "out there" ideas in these potent, strangely alluring temporal delusions to extend beyond the label's cultish appeal, and attract curious newcomers to its wonderfully quixotic, visionary canon."
Electronic Sound
Tracklisting
CD Double Album (GBX022CD)
The Focus Group

- Dancing Horse (Logotone)

The Advisory Circle

- Escape Lane

Belbury Poly

- Farmer's Angle

The Focus Group

- Hey Let Loose Your Love

Roj

- Attaining the Third State

John Foxx and The Belbury Circle

- Almost There

Pye Corner Audio

- Deep End

The Advisory Circle

- Callsign 'A' - The TV Trap

The Advisory Circle

- Nuclear Substation

Belbury Poly

- Owls and Flowers

The Focus Group

- Frumious Numinous

The Soundcarriers

- Boiling Point

The Advisory Circle

- Mind How You Go Now

Belbury Poly

- Cantalus

The Focus Group

- You Do Not See Me
Belbury Poly

- Belbury Poly Logotone
Pye Corner Audio
- The Mirror Ball Cracked
The Focus Group
- Bromiding place
Belbury Poly
- The Hidden Door
Mount Vernon Arts Lab
- The Black Drop
The Focus Group
- Poppingart
The Advisory Circle
- Wheel of the Year
The Focus Group
- Shining Stone (Logotone)
Belbury Poly
- The Willows
The Advisory Circle
- Sundial
Roj
- Bongo Workout
Hintermass
- The Apple Tree
Belbury Poly
- The Geography
The Focus Group
- The Leaving
The Advisory Circle
- Winter Hours
12" Vinyl Double Album (GBX022LP)
The Focus Group

- Dancing Horse (Logotone)

The Advisory Circle

- Escape Lane

Belbury Poly

- Farmer's Angle

The Focus Group

- Hey Let Loose Your Love

Roj

- Attaining the Third State

John Foxx and The Belbury Circle

- Almost There

Pye Corner Audio

- Deep End

The Advisory Circle

- Callsign 'A' - The TV Trap

The Advisory Circle

- Nuclear Substation

Belbury Poly

- Owls and Flowers

The Focus Group

- Frumious Numinous

The Soundcarriers

- Boiling Point

The Advisory Circle

- Mind How You Go Now
Belbury Poly

- Belbury Poly Logotone
Pye Corner Audio
- The Mirror Ball Cracked
The Focus Group
- Bromiding place
Belbury Poly
- The Hidden Door
Mount Vernon Arts Lab
- The Black Drop
The Focus Group
- Poppingart
The Advisory Circle
- Wheel of the Year
The Focus Group
- Shining Stone (Logotone)
Belbury Poly
- The Willows
The Advisory Circle
- Sundial
Roj
- Bongo Workout
Hintermass
- The Apple Tree
Belbury Poly
- The Geography
The Focus Group
- The Leaving
Download Double Album (GBX022DL)
Hintermass
- The Apple Tree