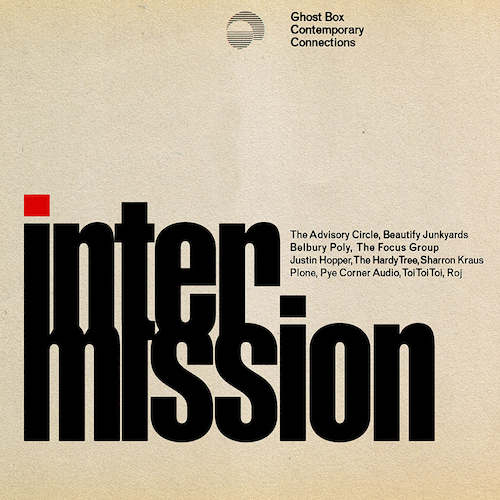 Intermission
Available Formats
Tracks
Price
Buy
12" Vinyl Album
15 tracks

£

13.95

Out of stock

CD Album
18 tracks

£

9.95

Download Album (

FLAC

)
18 tracks

£

7.99

Download Album (

MP3

)
18 tracks

£

7.99
Description
Various Artists - Intermission
Featuring:
The Advisory Circle, Beautify Junkyards, Belbury Poly, The Focus Group, The Hardy Tree, Justin Hopper, Sharron Kraus, Plone, Pye Corner Audio, ToiToiToi, Roj
A compilation recorded during the early phase of global lockdown in 2020. Ghost Box releases never have much to say about everyday reality but these responses to the situation seeped through from the "intermission" in the universe next door.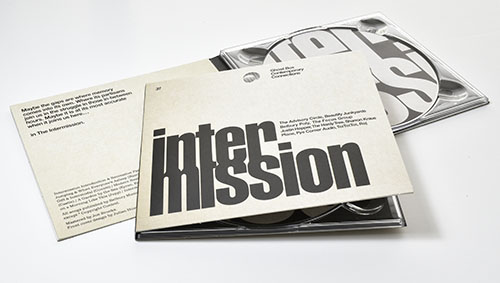 On download, CD and LP. The LP comes on "Natural Clear" heavy weight vinyl.
NOTE: Vinyl version
DOES NOT INCLUDE DOWNLOAD CODES
, but instead comes at a budget price. And here's why…
The
download
here in the Ghost Box shop has slightly variant artwork and all of the proceeds will go to
Médecins Sans Frontières
(www.msf.org). You can choose between supporting a charity by buying right here in the Ghost Box shop or supporting the musicians via all other commercial downloads and streams.
Reviews
'Intermission' stands as testament to Jupp and House's musical and cultural curiosity. Always the most forward-thinking of retro obsessives, they have ensured that Ghost Box's output. in the label's 17th year, sounds as fresh and exciting as ever.
Electronic Sound
...like everything on Ghost Box it all is infused with an often quite explicit link to the past. It feels equal parts escapist and reassuring – particularly at the moment. There's a real joy in just submerging yourself in the nostalgic bliss. Who cares if its your nostalgia or not?
Cyclic Defrost
Tracklisting
12" Vinyl Album (GBX037LP)
Justin Hopper and Belbury Poly

- Intermission Introduction

The Advisory Circle

- Airflow

Plone

- Running and Jumping

Roj

- The Animal Door

ToiToiToi

- Intermodal

Pye Corner Audio

- Modern Reels

The Focus Group

- Focustone 1

The Focus Group

- Focustone 2

Justin Hopper

- Recreation Park

The Hardy Tree

- Woodberry Vale

Beautify Junkyards

- A Garden by the Sea

Sharron Kraus

- Tell Me Why

Plone

- When Everyone's Asleep

Belbury Poly

- They Left on a Morning Like This

Justin Hopper and The Focus Group

- Intermission Conclusion
CD Album (GBX037CD)
Justin Hopper and Belbury Poly

- Intermission Introduction

The Advisory Circle

- Airflow

Plone

- Running and Jumping

Roj

- The Animal Door

ToiToiToi

- Die Dosis macht das Gift

Pye Corner Audio

- Modern Reels

The Advisory Circle

- Forward Motion

The Focus Group

- Focustone 1

Justin Hopper

- Recreation Park

The Hardy Tree

- Woodberry Vale

Beautify Junkyards

- A Garden by the Sea

Sharron Kraus

- Tell Me Why

The Focus Group

- Focustone 2

Pye Corner Audio

- Photon Dust

Plone

- When Everyone's Asleep

ToiToiToi

- Intermodal

Belbury Poly

- They Left on a Morning Like This

Justin Hopper and The Focus Group

- Intermission Conclusion
Download Album (MSFGBXD008)