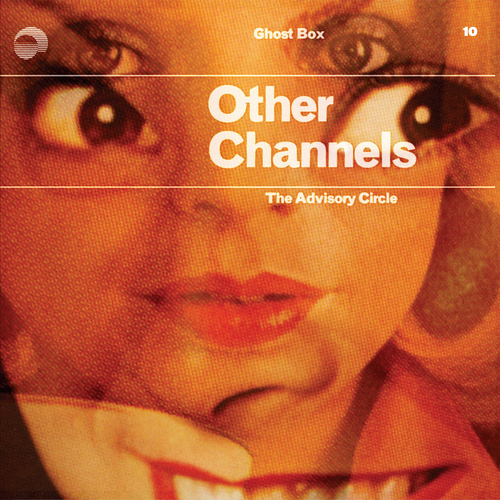 Other Channels
Available Formats
Tracks
Price
Buy
12" Vinyl Album (Remastered LP)
18 tracks

£

14.95

Out of stock

CD Album
19 tracks

£

10.95

Out of stock

Download Album (

MP3

)
19 tracks

£

7.99

Download Album (

FLAC

)
19 tracks

£

7.99
Description
The Advisory Circle - Other Channels
The Advisory Circle bring us more timely advice on issues such as domestic isolation, tranquilliser addiction and the nuclear threat. Sumptuous booklet art by Julian House and beautifully evocative liner notes by Ken Hollings complement what we feel to be the strongest Ghost Box release so far.

Light synthesizer melodies and moments of surreal humour float in a drift of pastoral melancholia and fuzzy music concrete. Fragments of public information broadcasting are filtered through the distorting lens of prescription tranquillisers. Malicious gossip becomes jumbled and confused with continuity announcements.

GHOST BOX SHOP VINYL CUSTOMERS GET A FREE DOWNLOAD
(no DL code is included in product).
Reviews
"The Advisory Circle's debut is the most fully realised expression of the Ghost Box label's aesthetic to date. Its artists inhabit a half-remembered zone sure to resound with impressionable listeners of a certain age. Clean, cold sounds echo the electronic incidental music of 1970s public-information films and weird children's television.
Beautifully assembled packaging, by the designer Julian House, suggests some long-abandoned government social experiment. Other Channels uses snatches of speech and fragments of banally beautiful melodies to conjure a vivid suburban nightmare of Mogadon coffee mornings, treacherous frozen ponds and imminent nuclear war that both chills and charms."
Stewart Lee
Sunday Times
Ghost Box just keep getting better and better. On this, the label's 10th release, Jon Brooks – AKA The Advisory Circle – heaps glorious tune upon glorious tune. Light synth melodies and fuzzy music fuse throughout to form a thing of rare beauty. Just buy it.
Stuart Aitken,
Flux
Tracklisting
12" Vinyl Album (Remastered LP) (GBX010LP)
The Advisory Circle

- Callsign 'A' - The TV Trap

The Advisory Circle

- Sundial
CD Album (GBX010)
The Advisory Circle

- Callsign 'A' - The TV Trap

The Advisory Circle

- Civil Defence Is Common Sense

The Advisory Circle

- Mogadon Coffee Morning

The Advisory Circle

- Sundial

The Advisory Circle

- Swinscoe Episode 1 - 'Enter Swinscoe'

The Advisory Circle

- Celebrate Michaelmas NOW!

The Advisory Circle

- Fire, Damp & Air

The Advisory Circle

- Frozen Ponds PIF

The Advisory Circle

- Erosion Of Time

The Advisory Circle

- A Clear Yarn Warning

The Advisory Circle

- Keep Warm, Keep Well

The Advisory Circle

- Eyes Which Are Swelling

The Advisory Circle

- Hocusing For Beginners

The Advisory Circle

- The Coastguard

The Advisory Circle

- Swinscoe Episode 2 - 'Release The Birds'

The Advisory Circle

- Farmland, Freeland

The Advisory Circle

- Everyday Electronics

The Advisory Circle

- The Old Schoolhouse

The Advisory Circle

- Callsign 'B' - Freeland Logotone
Download Album (GBX010)
The Advisory Circle

- Callsign 'A' - The TV Trap

The Advisory Circle

- Civil Defence Is Common Sense

The Advisory Circle

- Mogadon Coffee Morning

The Advisory Circle

- Sundial

The Advisory Circle

- Swinscoe Episode 1 - 'Enter Swinscoe'

The Advisory Circle

- Celebrate Michaelmas NOW!

The Advisory Circle

- Fire, Damp & Air

The Advisory Circle

- Frozen Ponds PIF

The Advisory Circle

- Erosion Of Time

The Advisory Circle

- A Clear Yarn Warning

The Advisory Circle

- Keep Warm, Keep Well

The Advisory Circle

- Hocusing For Beginners

The Advisory Circle

- The Coastguard

The Advisory Circle

- Swinscoe Episode 2 - 'Release The Birds'

The Advisory Circle

- Farmland, Freeland

The Advisory Circle

- Everyday Electronics

The Advisory Circle

- The Old Schoolhouse

The Advisory Circle

- Callsign 'B' - Freeland Logotone