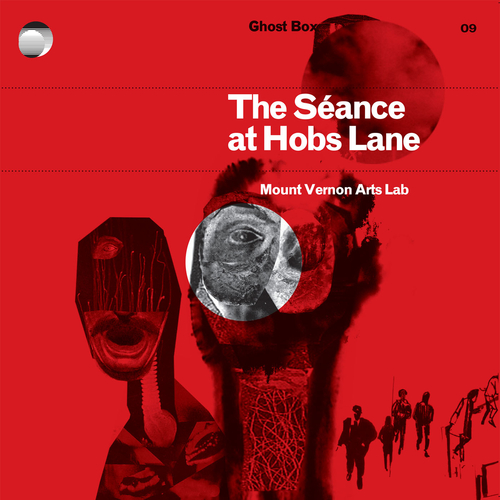 The Séance at Hobs Lane
Available Formats
Tracks
Price
Buy
12" Vinyl Album (Remastered LP)
11 tracks

£

14.95

Out of stock

CD Album
11 tracks

£

10.95

Out of stock

Download Album (

MP3

)
11 tracks

£

7.90

Download Album (

FLAC

)
11 tracks

£

7.90
Description
Mount Vernon Arts Lab - The Séance at Hobs Lane
This reissue of a lost classic of British electronics is a psychogeographic investigation into a world of abandoned Underground stations, Quatermass, eighteenth century secret societies and the footsore reveries of a modern Flâneur. Featuring collaboration with the late Jhon Balance of Coil, Adrian Utley of Portishead, Barry 7 of Add N to X and a variety other talented artists.

Sleeve notes by author, Lawrence Norfolk.

GHOST BOX SHOP VINYL CUSTOMERS GET A FREE DOWNLOAD
(no DL code is included in product).
Reviews
This welcome reissue of Mount Vernon Arts Lab's 2001 album suggests that the progressively groovy Ghost Box label is now so far advanced into the future that they're prepared to bring the past along with them. The brainchild of composer Drew Mulholland, the project's title alone twitches and seethes with enough occult and pop cult references to set the senses reeling. As featured in Nigel Kneale's TV series Quatermass and the Pit, Hobs Lane was the site of numerous disturbing apparitions, where ghosts and goblins didn't even wait for the formality of a séance to start showing up.
Mulholland's visionary approach to London's hidden spaces and uncanny secrets embraces skewed references to Sir Francis Dashwood and The Hellfire Club and old submarine yards on the Thames just upstream from Hammersmith Bridge. Everything is darkly alive, and with VCS3 synthesizer, theremin and guitar he conjures up sinister whirring vibrations that seem to come from deep beneath the ground. Adrian Utley's analogue synth on "Warminster 4" recalls Glynis Jones's work at the BBC Radiophonic Workshop in Maida Vale during the early 1970s, while the rolling reverberations of "The Mandrake Club" echo Tristram Cary's soundtrack to the 1967 film version of Quatermass and the Pit, created at the Royal College of Music. Remixes from Coil and Barry 7 of Add N to (X) manage to suggest where the music is going as well as where it's been.
Ken Hollings, The Wire
July 2007
Under various aliases – the Focus Group, the Advisory Circle, Belbury Poly – the secret chiefs of the Ghost Box label craft an apparently unique strand of British electronica, drawing on library recordings, 1970s schools television and psycho-geographical theory. But, lacking a genesis myth, they've exhumed Mount Vernon Arts Lab's forgotten 1999 album, The Séance at Hobs Lane, which anticipated their innovations, and repackaged it in the livery of their own releases, fabricating evidence of a musical movement. The spiralling cello of The Black Drop has an eerie resonance, and Sir Keith at Lambeth's shimmering oscillations trigger Proustian memories of teatime terror.
Stewart Lee, Sunday Times Culture Magazine
15th July 2007
Tracklisting
12" Vinyl Album (Remastered LP) (GBX009LP)
Mount Vernon Arts Lab

- The Black Drop
CD Album (GBX009)
Mount Vernon Arts Lab

- The Fog Detonator

Mount Vernon Arts Lab

- Hobgoblins

Mount Vernon Arts Lab

- The Mandrake Club

Mount Vernon Arts Lab

- Dashwood's Reverie

Mount Vernon Arts Lab

- The Black Drop

Mount Vernon Arts Lab

- Sir Keith at Lambeth

Mount Vernon Arts Lab

- The Submariner's Song

Mount Vernon Arts Lab

- The Vauxhall Labyrinth

Mount Vernon Arts Lab

- While London Sleeps

Mount Vernon Arts Lab

- Warminster 4

Mount Vernon Arts Lab

- Percy Toplis
Download Album (GBX009)
Mount Vernon Arts Lab

- The Black Drop