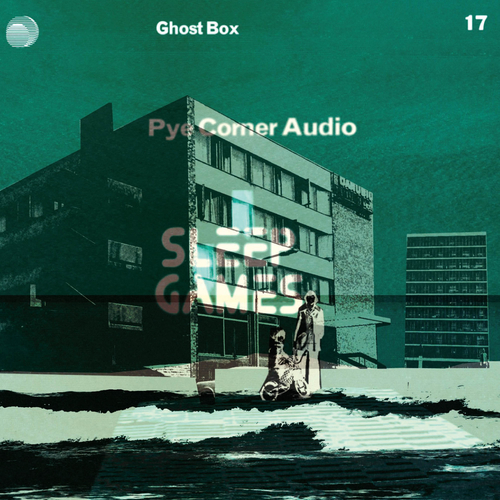 Sleep Games
Available Formats
Tracks
Price
Buy
12" Vinyl Album
16 tracks

£

14.95

Out of stock

CD Album
16 tracks

£

10.95

Out of stock

Download Album (

FLAC

)
16 tracks

£

7.99

Download Album (

MP3

)
16 tracks

£

7.99

Download individual tracks
From £0.99
Description
Pye Corner Audio - Sleep Games
Sleep Games is the new album from Pye Corner Audio the most recent addition to the Ghost Box roster. There are echoes of John Carpenter, Italo horror soundtracks and a kind of post rave meltdown in PCA's submerged disco and spectral electronics. Something of a new sound to the world of Ghost Box but at the same time an uncannily perfect fit.
Reviews
Ghost Box's ongoing collective hallucination reaches the haunted dancehall. The sleevenotes to Martin Jenkins' latest research document playfully refer to a state of 'deja entendu', but though much is composed of vintage electronic ingredients, its generic coordinates remain as unfixed as the 'non places' he aims to evoke in the melancholic, occasionally sinister silicon suite. "Into The Maze" and "The Mirror Ball Cracked" are techno composed of dust and drizzle, while "Nostalgia Pills" and "Chlorine" are woozy synth reveries. Like the kind of memory-sprites often evoked by Ghost Box releases, this is music that continually slips away from you even as you chase down its essence.
MOJO
After releasing three volumes of the intriguing Black Mill Tapes throughout 2010 and 2011 on his own Pye Corner Audio Transcription Services, Martin Jenkins takes the natural step and releases his studio album Sleep Games on Jim Jupp's wonderful Ghost Box label. The darker reaches of the haunted ballroom, the creeping shadows and the ghostly ambience of abandoned warehouses and buildings, and the faded charm of cult '70s children TV shows comprise the similar sound aesthetic that Jenkins and Jupp both encompass. Sleep Games begins with a nod to Jenkins' previous work with the marauding "The Black Mill Video Tape." It instantly recalls the imperious electronics of the finest John Carpenter and Alan Howarth soundtracks. The album then gusts over you like a Cold War wind, with dark thudding beats and kosmische chimes and breezes echoing all around. Jenkins' love and obvious influence of Krautrock become apparent on the motorik-sounding "Palais Spectres" and continue to flicker throughout the rest of the record. There is a haunting, almost chilling, undercurrent to the material; the VHS rhythms of "A Door in the Dry Ice" is a foggy slice of '80s B-movie electronics. The almost ambient-sounding "Nostalgia Pills" conjures up -- as its title intends -- faded memories before the two closing tracks ("Chlorine" and "Nature Reclaims the Town") calmly yet eerily end the album like a forgotten sci-fi novel. Our Head Technician has delivered an accomplished album for Ghost Box that only serves to enhance the well-deserved reputation of both parties.
ALL MUSIC
Tracklisting
12" Vinyl Album (GBX017)
Pye Corner Audio

- Sleep Games

Pye Corner Audio

- The Black Mill Video Tape

Pye Corner Audio

- Print Through

Pye Corner Audio

- Deep End

Pye Corner Audio

- Into the Maze

Pye Corner Audio

- Experimental Road Surface

Pye Corner Audio

- Yesterday's Entertainment

Pye Corner Audio

- The Mirror Ball Cracked

Pye Corner Audio

- Palais Spectres

Pye Corner Audio

- Remanence

Pye Corner Audio

- A Door in the Dry Ice

Pye Corner Audio

- A Non-Place

Pye Corner Audio

- Underneath the Dancefloor

Pye Corner Audio

- Nostalgia Pills

Pye Corner Audio

- Chlorine

Pye Corner Audio

- Nature Reclaims the Town
CD Album (GBX017)
Pye Corner Audio

- Sleep Games

Pye Corner Audio

- The Black Mill Video Tape

Pye Corner Audio

- Print Through

Pye Corner Audio

- Deep End

Pye Corner Audio

- Into the Maze

Pye Corner Audio

- Experimental Road Surface

Pye Corner Audio

- Yesterday's Entertainment

Pye Corner Audio

- The Mirror Ball Cracked

Pye Corner Audio

- Palais Spectres

Pye Corner Audio

- Remanence

Pye Corner Audio

- A Door in the Dry Ice

Pye Corner Audio

- A Non-Place

Pye Corner Audio

- Underneath the Dancefloor

Pye Corner Audio

- Nostalgia Pills

Pye Corner Audio

- Chlorine

Pye Corner Audio

- Nature Reclaims the Town
Download Album (GBX017)
Pye Corner Audio

- Sleep Games

Pye Corner Audio

- The Black Mill Video Tape

Pye Corner Audio

- Print Through

Pye Corner Audio

- Deep End

Pye Corner Audio

- Into the Maze

Pye Corner Audio

- Experimental Road Surface

Pye Corner Audio

- Yesterday's Entertainment

Pye Corner Audio

- The Mirror Ball Cracked

Pye Corner Audio

- Palais Spectres

Pye Corner Audio

- Remanence

Pye Corner Audio

- A Door in the Dry Ice

Pye Corner Audio

- A Non-Place

Pye Corner Audio

- Underneath the Dancefloor

Pye Corner Audio

- Nostalgia Pills