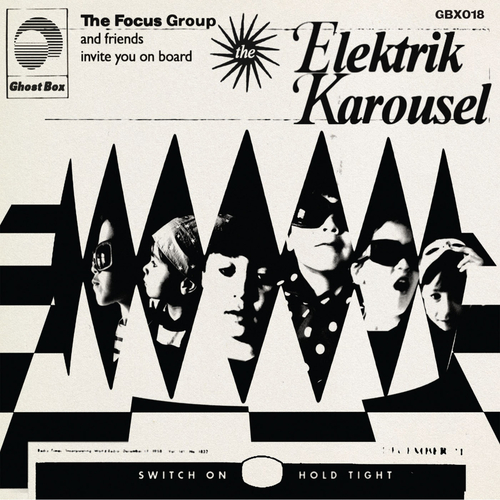 The Elektrik Karousel
Available Formats
Tracks
Price
Buy
12" Vinyl Album
26 tracks

£

14.95

Out of stock

CD Album
29 tracks

£

11.85

Out of stock

Download Album (

FLAC

)
29 tracks

£

7.99

Download Album (

MP3

)
29 tracks

£

7.99

Download individual tracks
From £0.99
Description
The Focus Group - The Elektrik Karousel
Elektrik Karousel It's an evolution of the Cut-Up experiments of the earlier albums where Julian House developed a musical style that mirrored his collaged design work. House, with help in the studio from Broadcast, Julain House weaves his samples into a rich tapestry of electronics, fuzzed guitar and processed exotic instrumentation together with fractured skipping rhythms and submerged melodies.
There's a weird alchemy at work that manages to distil essences of jazz, psychedelia and soundtracks into something utterly unique. For a clue to its moods, think Czech animation, Italian Giallo, early Radiophonics, HP Lovecraft stories, 1960s underground cinema, Lewis Caroll and baroque psych.
The luxuriously packaged super heavyweight vinyl LP comes with a free download code card. and the CD comes in a highly desirable 8 panel digipack.. The design is heavily inspired by 1960s underground press and conceived as a kind of mind altering DIY board game.
Reviews
"...a simultaneously playful and unsettling electronic psychedelia that's distinctly Ghost Box and richly rewarding."
Mark Brend,Record Collector
"By turns haunting, hypnotic, beguiling and startling, it conjures up dim memories of nightmarish Eastern European cartoons melded to Delia Derbyshire's experiments and the music box themes to old kids' shows"
Thomas Patterson, Shindig!
"…the spirit of a certain experimental, baroque psychedelia is alive in every one of these tunes."
Benjamin Graves, The Quietus
"House keeps his circus of ideas revolving so quickly that the record becomes a spellbinding whole."
George Bass, Drowned in Sound
"Elektrik Karousel conjures an escapist, playfully haunted house mood of mod-ish, Swinging London mind control music, somewhere between what Patrick McGoohan might be subjected to in an underground detainment centre in The Prisoner and unused outtakes from the Forbidden Planet soundtrack."
Britt Brown, The Wire
Tracklisting
12" Vinyl Album (GBX018LP)
The Focus Group

- Make Way

The Focus Group

- The Elektrik Karousell

The Focus Group

- Petroleum Paisley

The Focus Group

- tigt gruffil

The Focus Group

- The Flourescent Host

The Focus Group

- Skipping Spook

The Focus Group

- Kinky Korner Klub

The Focus Group

- The Kool Kranium

The Focus Group

- Bachoo

The Focus Group

- The Heavy Blessing

The Focus Group

- Chordfl

The Focus Group

- Hope Hodgsone

The Focus Group

- Poppingart

The Focus Group

- Let Them Go

The Focus Group

- The Magic Pendulum

The Focus Group

- Flaming Voices

The Focus Group

- The Church Bellows

The Focus Group

- Frumious Numinous

The Focus Group

- The Plastic Castle

The Focus Group

- Let's Listen

The Focus Group

- Oh want away

The Focus Group

- Harmonium

The Focus Group

- SPOLK

The Focus Group

- Hoojumany

The Focus Group

- A New Mystery

The Focus Group

- More Night Films
CD Album (GBX018CD)
The Focus Group

- Make Way

The Focus Group

- The Elektrik Karousell

The Focus Group

- Petroleum Paisley

The Focus Group

- tigt gruffil

The Focus Group

- The Flourescent Host

The Focus Group

- Skipping Spook

The Focus Group

- Kinky Korner Klub

The Focus Group

- The Kool Kranium

The Focus Group

- Bachoo

The Focus Group

- Hypnoradiol

The Focus Group

- The Heavy Blessing

The Focus Group

- Chordfl

The Focus Group

- Hope Hodgsone

The Focus Group

- Poppingart

The Focus Group

- Let Them Go

The Focus Group

- The Magic Pendulum

The Focus Group

- Flaming Voices

The Focus Group

- The Church Bellows

The Focus Group

- Oakston NewScene

The Focus Group

- Wax Phantoms

The Focus Group

- Frumious Numinous

The Focus Group

- The Plastic Castle

The Focus Group

- Let's Listen

The Focus Group

- Oh want away

The Focus Group

- Harmonium

The Focus Group

- SPOLK

The Focus Group

- Hoojumany

The Focus Group

- A New Mystery

The Focus Group

- More Night Films
Download Album (GBX018)
The Focus Group

- Poppingart

The Focus Group

- Frumious Numinous