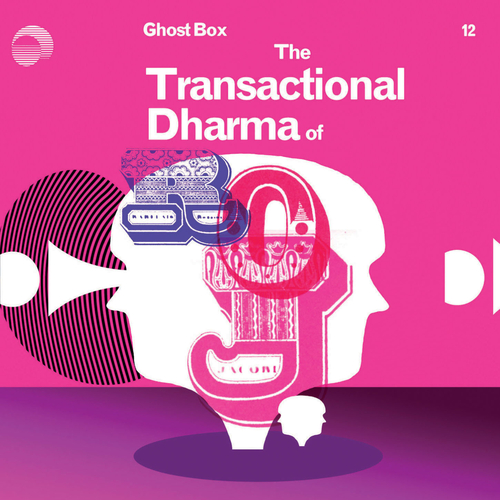 The Transactional Dharma of Roj
Available Formats
Tracks
Price
Buy
CD Album
24 tracks

£

10.95

Out of stock

Download Album (

MP3

)
24 tracks

£

7.99

Download Album (

FLAC

)
24 tracks

£

7.99
Description
Roj - The Transactional Dharma of Roj
Ghost Box is very excited to release what we believe to be one of the most original and unique albums of electronic music for many years. The Transactional Dharma is a haunting and immersive experience. The album has an academic rigour but it also channels the wild eyed outsiders of the genre, like Angus Maclise or Bruce Haack but with an oddly British twist.
Reviews
As Broadcast's original keyboardist, Roj Stevens picked up a thing or two about weird audio, and this solo release transforms vintage meditational Library Music into an aural Wonderland of mysterious Germanic voices, glinting ambience and atavistic rhythm science. "Yellow Peel" and "Go Without Me" throb with Hare Krishna hand-drums and hypnotic tom-tom pressure, soaked in the washing-machine reverb of early concrete music. "A Beginning Word" even displays Suicide-al tendencies. This "hauntological" sound is something you either buy into or reject wholesale, but Roj's psychic journey is among the most listenable examples so far.
UNCUT
The Boost Box label continues along its unique trajectory, blurring the gauzy lines of separation between past, present and future. This debut from ex Broadcast member, Roj, is typical of a roster whose hallmark is the re-conceptualisation of past echoes, seeking to transform them into blurry mythical tapestries of a fantastical, though failed, future. The Transactional Dharma is populated by burbling electronics and bizarre sonic tributaries, but unlike, say, the work of some of the imprint's other acts, the mode here is often less playful. Cashing in the cosy retro-futurism of groups such as Plone and, indeed, Broadcast for a more academic approach.
It's easy to interpret many of the pieces here as a process or (re-)discoyery, in the vein of the BBC Radiophonic Workshops groundbreaking audio work. By stealing the clothes of such sonic pioneers, Roj could be attempting to show that there's nothing new under the sun. Or maybe he simply wants us to cast our minds back for a better tomorrow?
RECORD COLLECTOR
...you know what, it's excellent -- totally Ghostbox-aligned yet completely distinctive as a musical voice, ... such an intricate eerieness to the production.
Simon Reynolds,
BLISSBLOG
Tracklisting
CD Album (GBX012)
Roj

- Meditation on nothingness

Roj

- Yellow Peel

Roj

- Your turn

Roj

- Transcommunication

Roj

- Morning Break

Roj

- Bongo Workout

Roj

- The Process Revealed

Roj

- Clear Channels

Roj

- A Beginning Word

Roj

- Sighting in Corridor 12

Roj

- Go Without Me

Roj

- Mountain Tone

Roj

- They are in the room with us right now.

Roj

- Inhale. Exhale. Love!

Roj

- Intermission exercise

Roj

- Attaining the Third State

Roj

- Brain Sync

Roj

- The Gamelan Threshold

Roj

- Trance and Bilocation

Roj

- modified apparatus test

Roj

- "Now you're chanelling the real thing"

Roj

- Rejoice ! He is here

Roj

- Attainment of the Final Key

Roj

- What I saw
Download Album (GBX012D)
Roj

- Bongo Workout

Roj

- Attaining the Third State