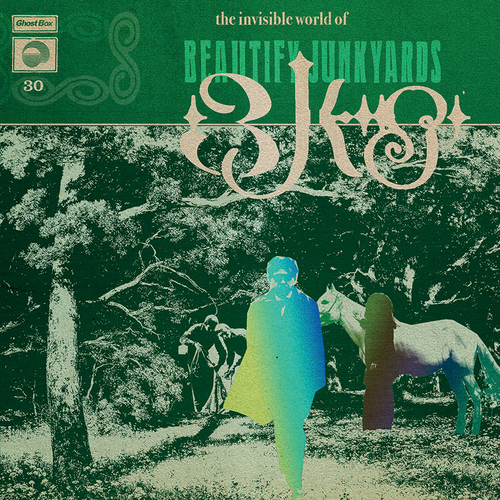 The Invisible World of Beautify Junkyards
Available Formats
Tracks
Price
Buy
12" Vinyl Album
13 tracks

£

14.95

CD Album
15 tracks

£

11.95

Out of stock

Download Album (

FLAC

)
15 tracks

£

7.99

Download Album (

MP3

)
15 tracks

£

7.99

Download individual tracks
From £0.99
Description
Beauitfy Junkyards - The Invisible World of Beautify Junkyards
Lisbon's Beautify Junkyards effortlessly blend their love of English Acid Folk and Brazilian Tropicalia in a collection of songs that conjure up a warm and verdant faerie world. Delicate acoustic guitars evoke an autumnal England suffused with Iberian heat by other-worldly voices; the ethereal lilt of João Branco Kyron and the warm languor of Rita Vian. The production is tempered with a haunted electronic palette that anchors the band squarely in the world of Ghost Box. Their sound is further enhanced by newest member Helena Espvall ( formerly of Espers) on guitar and cello. With João Moreira on acoustic guitar and synth, Sergue Ra on bass and Antonio Watts on drums they are altogether an astonishingly talented group of people.



The Invisible World… will be the band's third album and their first for Ghost Box, following on from their Other Voices single in 2016. With artwork throughout by Julian House, the heavyweight vinyl LP version comes with free download code card. Pre-orders open 16th February.




Reviews
"Anything but invisible, it's a bewitching album that you'll warm to immediately."
Electronic Sound
"Deep in the woods glows a masterpiece from Beautify Junkyards."
Prog Magazine
"Atmospheric, immersive, and arcane, The Invisible World Of Beautify Junkyards is a record out of time"
Shindig
"...a beautifully-packaged helping of 21st century acid-folk at its headiest."
Record Collector
"Effortlessly blending English acid folk and Brazilian tropicalia, you may find yourself transported to another world via this sparkling new release... Brava!"
The Big Takeover
"...an album that will live long in the hearts of the listener."
Strange Brew
"The record unfolds with new layers of rippling beauty with each listen."
Raven Sings the Blues
Tracklisting
12" Vinyl Album (GBX030 LP)
Beauitfy Junkyards

- Ghost Dance

Beauitfy Junkyards

- Sybil´s Dream

Beauitfy Junkyards

- Prism

Beauitfy Junkyards

- Half Marble

Beauitfy Junkyards

- Golden Apples of the Sun

Beauitfy Junkyards

- Echo Chamber

Beauitfy Junkyards

- Manhã Tropical

Beauitfy Junkyards

- Aquarius

Beauitfy Junkyards

- Shelter

Beauitfy Junkyards

- Cabeça-Flor

Beauitfy Junkyards

- Claridade

Beauitfy Junkyards

- Sorceress

Beauitfy Junkyards

- The Masque of the Hidden Garden
CD Album (GBX030 CD)
Beauitfy Junkyards

- Ghost Dance

Beauitfy Junkyards

- Sybil´s Dream

Beauitfy Junkyards

- Prism

Beauitfy Junkyards

- Half Marble

Beauitfy Junkyards

- Golden Apples of the Sun

Beauitfy Junkyards

- Echo Chamber

Beauitfy Junkyards

- Manhã Tropical

Beauitfy Junkyards

- Aquarius

Beauitfy Junkyards

- Shelter

Beauitfy Junkyards

- Cabeça-Flor

Beauitfy Junkyards

- Claridade

Beauitfy Junkyards

- Sorceress

Beauitfy Junkyards

- The Masque of the Hidden Garden

Beauitfy Junkyards

- May Day Eve

Beauitfy Junkyards

- Trackways
Download Album (GBX030 DL)
Beautify Junkyards

- Ghost Dance

Beautify Junkyards

- Sybil´s Dream

Beautify Junkyards

- Prism

Beautify Junkyards

- Half Marble

Beautify Junkyards

- Golden Apples of the Sun

Beautify Junkyards

- Echo Chamber

Beautify Junkyards

- Manhã Tropical

Beautify Junkyards

- Shelter

Beautify Junkyards

- Cabeça-Flor

Beautify Junkyards

- Claridade

Beautify Junkyards

- Sorceress

Beautify Junkyards

- The Masque of the Hidden Garden

Beautify Junkyards

- May Day Eve

Beautify Junkyards

- Trackways